2010 UPDATES:



FOR SALE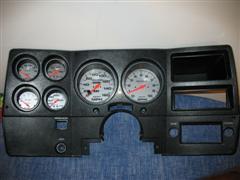 After numerous request, I have begun making gauge bracket kits to install Autometer gauges recessed behind your factory bezel. As of right now, I offer them for the series and sizes listed below. Each kit contains the gauge brackets, gauge mounting brackets, mounting hardware and detailed instructions. You supply the gauges and build the assembly. If you would like to purchase a kit, the price is $45 shipped to your door (continental United States, extra anywhere else) and you can contact me at jdrew@73-87.com to order. Click here for more information.
Autometer Ultralight 5" speedometer/tachometer and 2 5/8" oil/water/fuel/volt/etc
Autometer Ultralight II 5" speedometer/tachometer and 2 1/16" oil/water/fuel/volt/etc
Autometer Phantom 5" speedometer/tachometer and 2 5/8" oil/water/fuel/volt/etc

Well, as my family has grown (three kids now), it became apparent that I didn't need two square body standard cab "projects", so I sold my 1977 C10 work truck in November and picked up another old rig to replace it. Tanner, as my wife called it, was a good truck and is going to a good home to live life as a motorcycle repair "shop truck". I will have its own page up soon with larger pics more information on it for those who are interested.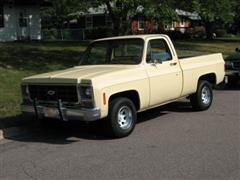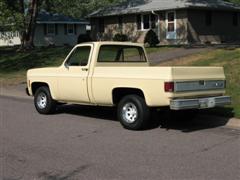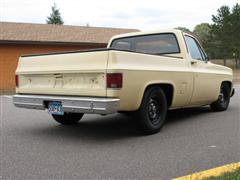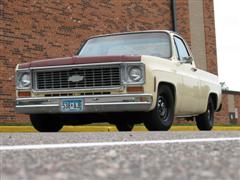 Added some reference pictures of a real nice Spirit of 76 truck, owned by visitor Jerry Donahy, to the Spirit of 76 page in the Special Editions section of the site. This truck is also for sale, if you are interested, contact me at jdrew@73-87.com and I will pass along your information to Jerry. Thanks for the pictures Jerry, good luck with the sale.




Site visitor Johnnie Morris was kind enough to send us some scans of a Fall Guy article he had from an older issue of 4 Wheel & Off Road. If you would like to read the article, click here to be taken to the TV & Movies portion of the site. Thanks again Johnnie!


After much debate and trying to convince myself that what I was about to do was worth the effort and time, I decided to re-do my surface mounted Autometer gauges and recess mount them for a sleeker look and more ergonomic viewing angle. I modified a spare 73/74 dash bezel I had, took apart my gauges, designed these brackets, and got the gauges all mounted in. It was a fair amount of work, but after seeing the end result, I am VEY pleased with the outcome. You can find more information and pictures in Swervins old article in the garage section, I simply added on to his existing article. If you are interested in a set of these gauge brackets, stay tuned, I am debating about making more sets. Send an e-mail to jdrew@73-87.com if you are interested, so I can determine if I should move forward with that.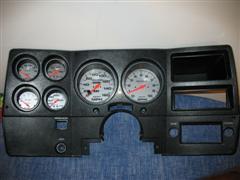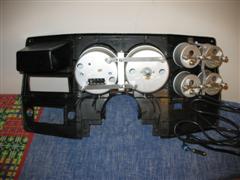 Well, I have some good news to share with everyone! The 6x9 cab corner speaker brackets I make and sell here on the site have made their way into the August 2010 issue of Custom Classic Trucks! Former editor, and now freelance contributor John Gilbert is the guy to thank for all of this. The brackets are featured in part two of a multi issue interior revamp of his '79 Big 10 "Americruise Truck". If you aren't already a reader or subscriber of CCT, I suggest you become one, and while you are at it, be sure to check out Classic Trucks as well, as John will be writing some 73-87 articles soon for that publication as well. So, if you are reading this John, thanks again! Feel free to click the thumbnails below to see full size scans of the article. If you would like to order a set of these for your 73-87 pickup or crew cab, click here for more information.
The Car Craft Summer Nationals were in town and at the state fairgrounds in July, and I had the opportunity to attend and snap a few photos for those of you who couldn't make it. I met some really nice people, and saw some really nice trucks. Click here to be taken to the page where they reside.

Well, it has been quite a while since I have had a chance to update the site, but I have a real good reason! On March 14th 2010, my wife delivered two handsome fraternal twin boys, Evan Edward and Jacob James. They were born eight weeks premature, had complications as a result, and had to spend the first five weeks in the hospital. Both boys are obviously home now, and between them, our two-and-a-half year old daughter Genevieve...life is pretty busy and hobbies have taken a temporary back seat. With that being said, I have some free time tonight to add some updates...and have a TON more I will be adding as time permits. So, thanks for hanging in there...and please check back every so often for future updates.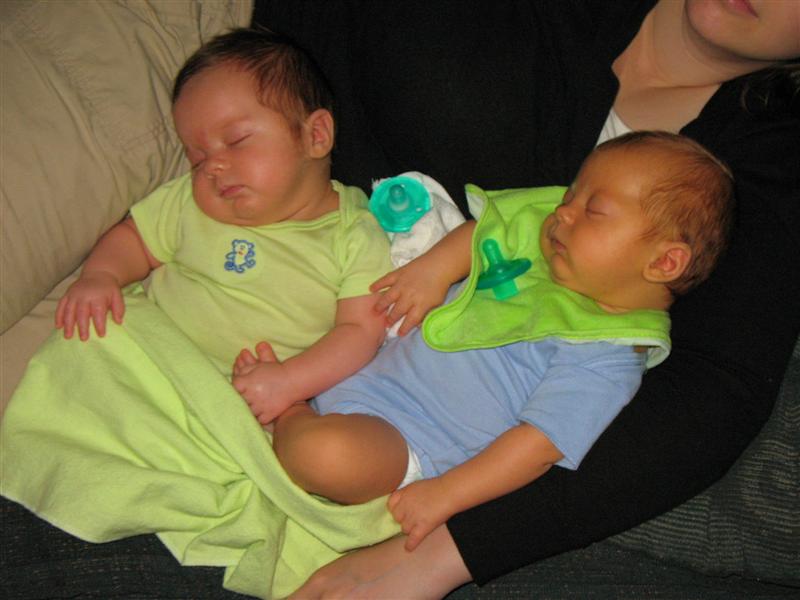 Quiet time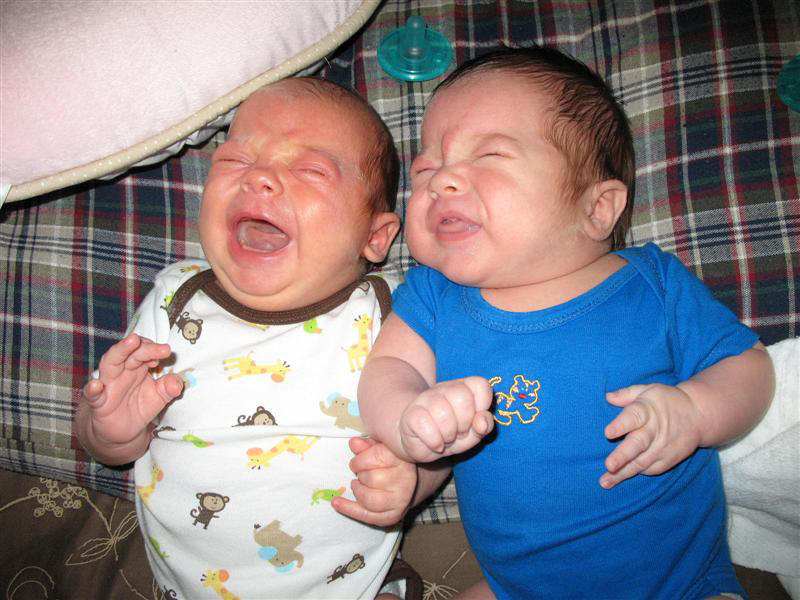 NOT-so quiet time!
Stumbled across this recently online, and thought I would you all may enjoy this...or perhaps shed a tear. These are photos of a train wreck that took place back in 1974 in Marietta Georgia. Photos courtesy of the Marietta History Museum. It is too bad to see all those trucks damaged, one has to wonder what their fate was after the mess was cleaned up. Click any of the thumbnails to be taken to the rest of the pictures.
On-line friend Ken McAvoy recently had the installation of Ridetech's Level 2 air ride system on his beautiful '77 C10 featured in the July 2010 issue of Street Trucks magazine. This is a great article and well worth reading. Congrats Ken to yet another magazine feature, your truck has inspired many. You can find the article in the garage section here on the site.
Speaking of Street Trucks Magazine, in the very same issue above, editor Travis Noack is taking a 70's K5 four wheel drive Blazer and converting it into a ground hugging topless roadster. Sounds like it will be quite the project, and one I will be personally following. Click the thumbnail below to see the full size scan.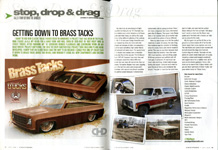 The most recent issue of Hot Rod Magazine (July 2010) features one of the most wicked 73-87s to roam the planet. Not only is real odd to see a square body featured in Hot Rod Magazine, it is extremely odd to see a 3000 horsepower '76 GMC K10 drag truck! Yes, you read that right. This truck has been around a while, but it has been getting more coverage lately. You can click the thumbnails below to read more about it, or head on over to www.msmisery.com which is the owners site.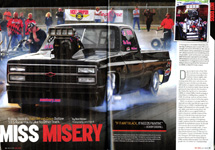 FOR SALE
Custom 73-87 Chevrolet/GMC Truck, Blazer/Jimmy, Suburban firewall fuse box covers. These bolt to your firewall using the two existing holes for your current/factory fuse box. It is a simple 4" x 4" x 2.5" box, CNC cut on 16 ga metal, and fully welded at all four corners. All these need is to have the welds sanded smooth, the box slightly notched to clear your wiper motor, an opening cut out to allow the wiring to exit, and paint (body color would work/look best IMO)...all easy things to do, but I wanted that done by the owner as I am unsure if all wiper motors are the same, and if all wiring exits the same between the years. Comes with all mounting hardware and instructions as well. Clean up your firewall and hide that ugly fuse box. $45 shipped to anywhere in the lower 48 states. If interested in purchasing one of these, send an E-mail to jdrew@73-87.com and let me know. I have a limited number of these, so don't wait too long.
Some more new stuff to read! First up, 1984 CUCV news taken from the March 1984 issue of Off-Road Magazine. Next, A 1978 Truck & Van Buyers Guide published by Hot Rod Magazine back in '78...very nice article on the pickup, Blazer/Jimmy and Suburban line offered by General Motors. Finally, a neat picture taken at one of the Mint 400's that were run in the early 80's...just because I like it! Click the thumbnails below to be taken to the page where they reside...or in the stepside case, click to see the full size image.
Uploaded another Desert Fox article as well as a road test of a Chevrolet K20 pickup, both circa 1978. Old articles like this are really fun to read, and make me wish I could travel back in time and buy one of these brand new! Click Thumbnail below to be taken to their page.
Former Flint Assembly Line Supervisor, on-line friend and all around great guy Keith Seymore sent me some great information on the assembly line photos I have here on the site, as well as a very entertaining (and true) story regarding a special white truck that once lived at the proving grounds. You NEED to check out both of these additions, they are fantastic! Thanks again Keith! (That is his truck below...he is one of us)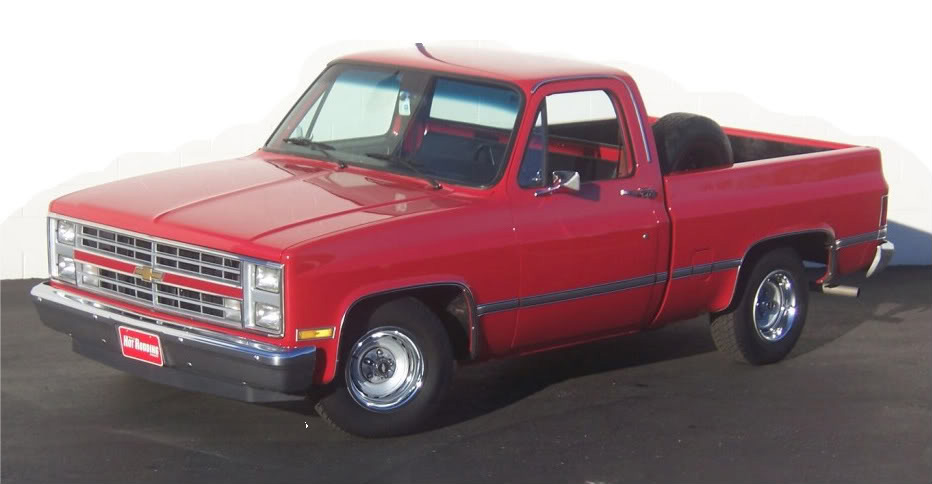 Added just a couple small things. First up is a neat little article on the Hickey equipped Rockford Files truck, and the other is a 1979 postcard to go along with the rest I have collected somewhat recently. Click the thumbnail below to be taken to the page they reside on.
Just picked up a couple new GMC Indy Hauler items, they can be seen with the rest of the Indy Hauler info I have collected over the years.


Added a bunch of tech articles to the garage section, from some older and recent issues of Truckin' and Custom Classic Trucks. I also added a couple 73-87 related aftermarket ads, and a Dick Butkus/Suburban TV series article. Click the thumbnails below to be taken to each of them.
Ever hear of the Game Monster Truck Madness 2? If so, wouldn't it be even cooler of you could drive a 73-87 of your choice in it? If you are still reading and want to know more, head over to the Novelties section to see how. Heck, even if gaming isn't your thing, head over there anyhow for more neat 73-87 stuff to drool over. Special thanks to Kevin Muhs for sharing this with myself (and us)!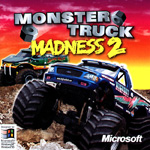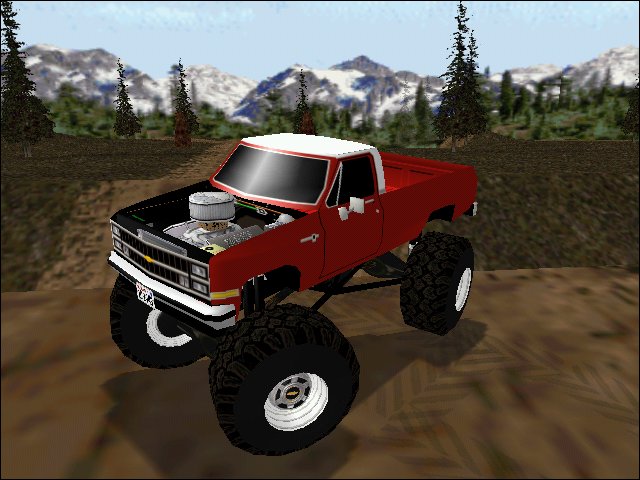 You don't see Indy Haulers every day, luckily a visitor of the site does...as he sent me photos of his '75 and scans of the GM issued press kit too. Click here to see and hear more about this extremely rare truck.


Sport and Street Coupe owner Alex Millar of Alberta Canada sent me some neat 1980 and 1981 Chevrolet Sport scans. I have added them to the Special Editions section for everyone else to see. Thank you very much Alex! If you would like to see Alex's trucks, head on over to the readers ride section or click the thumbnail of either truck below to be taken directly to his page.
Ever hear of a 1976 Olympic Edition? Well, unless you live in Canada, you likely haven't. To commemorate the 1976 Olympic, GM produced what was called the Olympic Edition. A great guy named Everett Babin of New-Brunswick Canada sent me some photos and documentation of his truck. To learn more click on any of the thumbnails below to be taken to the Special Edition page. If you still want to see more of Everett truck, head over to You Tube and see what comes up when you search for "Olympic Edition GMC burnout"!
FOR SALE
If you would like to upgrade the speakers in your truck, this might interest you. I have somewhat recently begun making cab corner 6x9 speaker brackets for all 73-87 GM trucks, and 88-91 crew cabs. These brackets are made of heavy duty 16 gauge steel, and fit perfectly in the cab corners...even with the bench seat all the way back. Due to space limitations, only speakers with a 3 1/4" magnet and smaller will fit. You can get the larger magnet speakers to fit with the use of spacers (which I do not make or sell), they can be found on eBay and at most car stereo shops/stores. Please study the below picture carefully to ensure these brackets will fit your truck. Some of the early 3-point seat belt trucks had the retractors mounted where the top of these brackets sit...and therefore will not work. I have sold over 125 sets of these brackets so far, and have had ZERO negative feedback on them, only positive! I have spent a lot of time developing and making these, and take a great deal of pride in them. If you are interested, or just want to learn more and see some pictures and customer feedback, head on over to 67-72chevytrucks.com and take a look. I also have pictures of them installed in my '73 right here on the 'site, click here to see them. If you are still reading this, and are interested in purchasing a set, send an E-mail to jdrew@73-87.com and let me know. The price, including shipping to anywhere in the continental US, is $63 to your door. Instructions and mounting hardware are included.
Lately I have been receiving numerous E-mails requesting help decoding all sorts of engines and transmissions. Unfortunately I do not own any engine or transmission suffix books, but I can however tell you where to begin your search. Visit Mortec.com, there is a ton of information on their site pertaining to Chevrolet engines, and more than likely you will find what you are looking for there. If that doesn't answer your question, please visit any of the sites below, all are filled with owners of these trucks (and older), someone is bound to know there. My screen name is bigblock73 on all four, stop by and say hi.
---


---