67-72 CAB
CORNER 6X9
SPEAKER BRACKETS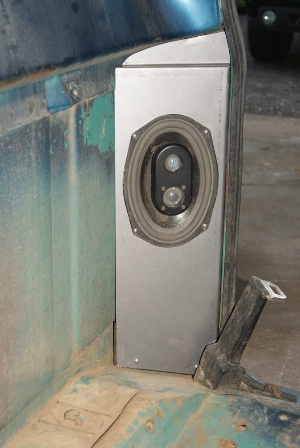 CLICK HERE FOR
MORE INFORMATION!
73-87 CAB
CORNER 6X9
SPEAKER BRACKETS


CLICK HERE FOR
MORE INFORMATION!
73-87 FIREWALL
FUSE BOX COVER


CLICK HERE FOR
MORE INFORMATION!
Last Site Update 11/21/11
Latest Additions and Updates
2011 UPDATES:

I know this isn't exactly squarebody related, but I have recently begun making and selling 67-72 Chevy/GMC truck cab corner 6x9 speaker brackets. Click HERE for more information.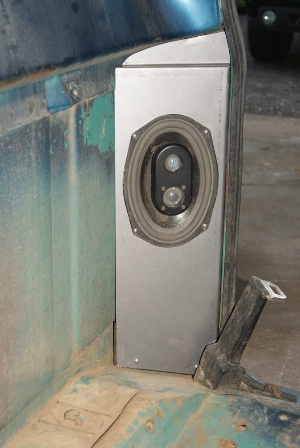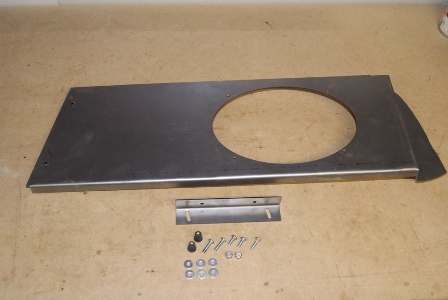 I recently acquired this exceptionally nice 1975 Silverado. This is a pretty rare and loaded truck, that I am enjoying tremendously. To see more pictures and learn all about it, click HERE.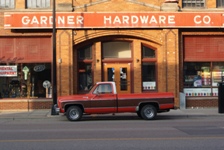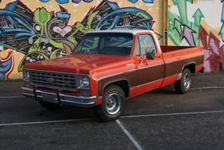 Squeezed a little garage time in recently, made some good interior progress...I can now see light at the end of the tunnel! Key accomplishments were the installation of the headliner (recovered) and trim (re-painted), carpet (ACC), bucket seats (which were recovered and are now heated), center console (restored), rear cab panel (custom built and upholstered to match headliner), painted speaker brackets (available here on the site!) w/speakers, lower dash gauges, and a ton of wiring. Currently I am wrapping up the floor shifter (B&M) and base install (custom made), and will move on to the remote entry system (Spal), one piece window install, and then the door panels with factory 79-80 door speaker package. I hope to have more updates soon. All of this can be seen on the interior page of my truck build up.
Random 73-87 related stuff. First up, Bearfoot article...one of my favorite monster trucks growing up in the 80's..when they actually looked like trucks and simply went out and crushed cars. Next, one of the worst trends of the early 80's...round to square headlight conversions! Enjoy these, similar info can be found on this page.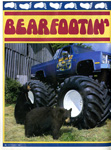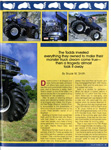 One of the things I love about reading old issues of truck magazines are the vintage ads featuring, what was new at the time, 73-87 GM trucks. Whether you enjoy seeing these trucks in their former glory, or searching for a manufacturer of an item currently on your truck, these advertisements can be both enjoyable and educational to look at. I have an entire page full of these advertisements that I have come across and uploaded to the site. Below are the most recent additions to that page.














Two new GM advertisements, one of which is circa 1980 and features a Chevrolet Sport. These, along with many others can be found here and here.


80 Started going thru my archived collection of various truck related magazines, publishing any 73-87 related ones I come across here on 73-87.com. Most were scanned from Classic Trucks and Custom Classic Trucks, my two favorite "truck" magazines. Click the thumbnail below to be taken directly to the article, or visit the garage and browse to the appropriate section to see them, and MANY more. I will have quite a few of these over the next couple weeks, so check back soon to see the rest.

FOR SALE
Looking for some 73-87 related decorations for your garage, or even house? Well, I recently designed and began making square body key (or hat/coat) racks. As of March 5th 2011, they are now available for everyone, but in limited quantities. These are made of heavy 16 gauge steel, come bare (ready for your customization and paint), and include wall mounting hardware and instructions. Measurements vary depending on style, but they are approximately 12" x 12" on average. If you would like to purchase one (or more) of these, the price is $40 shipped to your door (continental United States, extra anywhere else) and you can contact me at jdrew@73-87.com to order. Please specify which style you would like when contacting me. Made in the USA!
Note: The bottom of the key racks look curved in the photos, but rest assured, they are perfectly straight.
Fleetside pickup lowered
Fleetside pickup stock/slightly lifted
Stepside pickup lowered
Stepside pickup stock/slightly lifted
Suburban (barn door) lowered
Suburban (barn door) stock/slightly lifted
Dooley lowered
Dooley stock/slightly lifted
Blazer/Jimmy lowered
Blazer/Jimmy stock/slightly lifted
**1967-1972 styles coming soon**



FOR SALE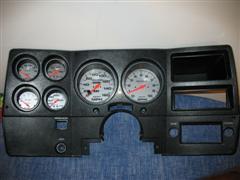 After numerous request, I have begun making gauge bracket kits to install Autometer gauges recessed behind your factory bezel. As of right now, I offer them for the series and sizes listed below. Each kit contains the gauge brackets, gauge mounting brackets, mounting hardware and detailed instructions. You supply the gauges and build the assembly. If you would like to purchase a kit, the price is $45 shipped to your door (continental United States, extra anywhere else) and you can contact me at jdrew@73-87.com to order. Click here for more information. Made in the USA!
Autometer Ultralight 5" speedometer/tachometer and 2 5/8" oil/water/fuel/volt/etc
Autometer Phantom 5" speedometer/tachometer and 2 5/8" oil/water/fuel/volt/etc
Autometer Ultralight II 5" speedometer/tachometer and 2 1/16" oil/water/fuel/volt/etc

FOR SALE
Custom 73-87 Chevrolet/GMC Truck, Blazer/Jimmy, Suburban firewall fuse box covers. These bolt to your firewall using the two existing holes for your current/factory fuse box. It is a simple 4" x 4" x 2.5" box, CNC cut on 16 ga metal, and fully welded at all four corners. All these need is to have the welds sanded smooth, the box slightly notched to clear your wiper motor, an opening cut out to allow the wiring to exit, and paint (body color would work/look best IMO)...all easy things to do, but I wanted that done by the owner as I am unsure if all wiper motors are the same, and if all wiring exits the same between the years. Comes with all mounting hardware and instructions as well. Clean up your firewall and hide that ugly fuse box. $45 shipped to anywhere in the lower 48 states. If interested in purchasing one of these, send an E-mail to jdrew@73-87.com and let me know. I have a limited number of these, so don't wait too long. Made in the USA!
FOR SALE
If you would like to upgrade the speakers in your truck, this might interest you. I have somewhat recently begun making cab corner 6x9 speaker brackets for all 73-87 GM trucks, and 88-91 crew cabs. These brackets are made of heavy duty 16 gauge steel, and fit perfectly in the cab corners...even with the bench seat all the way back. Due to space limitations, only speakers with a 3 1/4" magnet and smaller will fit. You can get the larger magnet speakers to fit with the use of spacers (which I do not make or sell), they can be found on eBay and at most car stereo shops/stores. Please study the below picture carefully to ensure these brackets will fit your truck. Some of the early 3-point seat belt trucks had the retractors mounted where the top of these brackets sit...and therefore will not work. I have sold over 125 sets of these brackets so far, and have had ZERO negative feedback on them, only positive! I have spent a lot of time developing and making these, and take a great deal of pride in them. If you are interested, or just want to learn more and see some pictures and customer feedback, head on over to 67-72chevytrucks.com and take a look. I also have pictures of them installed in my '73 right here on the 'site, click here to see them. If you are still reading this, and are interested in purchasing a set, send an E-mail to jdrew@73-87.com and let me know. The price, including shipping to anywhere in the continental US, is $65 to your door. Instructions and mounting hardware are included. Made in the USA!
---

---